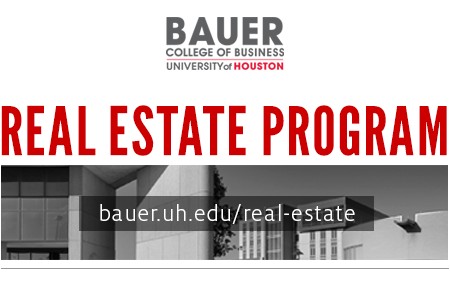 STUDENT SPOTLIGHT
Priti Mehta – Graduate Student
Where did you grow up? Where did you go to high school? I was raised in Houston, Texas. I attended Elsik High School in Alief Independent School District.
Did you have an interest in real estate when you came to Bauer or you chance on the field after you started your degree program? I have always had an interest in Real Estate particularly into investment properties such as hotels and condominiums during my undergraduate years. I obtained a loan officer license and briefly worked with a real estate broker on residential mortgage loans. As I pursued my degree with various Finance classes, the Real Estate Finance class caught my fancy and got it me interested and excited to pursue a career in the real estate industry.
What Real Estate courses have you taken? Which one have you found the most interesting and why? I have taken all the real estate courses that the Bauer College offers. The Real Estate Finance course was most engaging in a quantitative, logical, analytical, and strategic style and therefore the most appealing to me.
What would you tell a student who is exploring the Real Estate certificate? It is a great program especially with all the support from the advisors, industry faculty, and staff who present ample opportunities to network and attend industry events to "learn" outside of the classroom environment. The mentorship program is a huge added bonus. The one-on-one interaction with a seasoned industry professional is invaluable to prepare us for the Houston real estate industry. By the time you graduate with the Real Estate certificate you are already woven into the fabric of the Houston real estate market and industry.
What are your hobbies? I enjoy reading, chess, cooking, traveling, ping-pong, being out in nature and enjoying time with my family and friends … and since I don't own a convertible, I like riding my bike so I can feel the wind. I most enjoy some good humor that makes me laugh out loud!

BOARD MEMBER SPOTLIGHT
Mike Dishberger – President & CEO, Sandcastle Homes
Mike heads up the construction, purchasing, and accounting operations of Sandcastle Homes, a premier home builder in Houston whose commitment to exceptional quality and unbeatable value has been at the core of the over 20 year-old company. He is also the current Chair of the University of Houston Stanford Alexander Advisory Board. His involvement in the Advisory Board makes him a fierce advocate of the Bauer Real Estate Program and the students it serves.
On March 18, Mike headlined at a Speaker Series event where he shared the origins of his company and the vision to build high-quality homes inside the loop in the 1990's, long before other builders dared such a feat.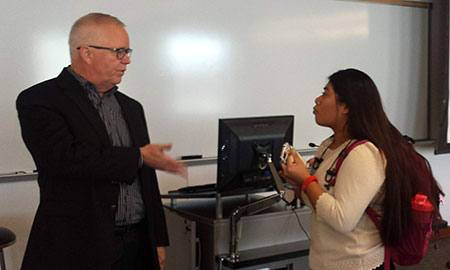 STUDENT FEATURE
Mark Garcia-Prats – Graduate Student
Prior to starting my MBA at Bauer, I spent the last seven years in the education field in Houston as a teacher, administrator, and consultant. Many people, including close friends and family, were surprised to say the least when I decided make a career shift and pursue an MBA with a focus in commercial real estate finance. In my own mind though, it did not feel like such a radical shift. Much of my life has been spent whole heartedly pursing interests. The business world, and more specifically commercial real estate, was yet another interest I felt inspired to pursue.
When I decided to make this transition, I looked all over the country for an MBA program that fit my needs and interests. I was pleasantly surprised that it was the university down the street that was the perfect match. I am so grateful for Bauer's Real Estate Program because it allowed me to make this professional transition. It provided me with two important things: first, a solid foundation in business and real estate principals and technical skills, and second, connections within Houston's real estate community. After I finished my first year in the program, Keith connected me with an incredible and unique opportunity at Greystar, where I have been working now for 10 months. Because of my classes and great instructors, I felt well prepared to enter this new industry and to quickly add value at Greystar. I have been thrilled to be working at a company that is growing and evolving so quickly and am grateful to Bauer's real estate program for this opportunity.

STANFORD ALEXANDER CENTER OF EXCELLENCE
End-of-Semester Treat
Between May 1 and 2, the Real Estate office will be handing out goodie bags to Real Estate students to help them get through finals week. Students can stop by CBB, room 302 between 8 a.m. and 6 p.m. to pick up an end-of-semester treat.

EVENTS & OUTREACH
Symposium and Innovative Practice Awards Program
Real estate executives, leaders and Bauer students gathered at the University of Houston Hilton Hotel on April 17 to attend the 2019 Symposium and Innovative Practices Awards Program. The event hosted by the Stanford Alexander Center for Real Estate included a presentation by Real Estate graduates students, Cody Mitchell and Mark Garcia-Prats, titled - "Houston 2036: A Bicentennial City Redeveloped by Millennials." The presentation painted a picture of what Houston real estate development will need to consider in 2036 given the projected shifts in population, technology, and community preferences. Panelists representing development projects by Lovett Commercial, Midway, and Texas Central shared their insight on the future of the industry and how innovation will determine how real estate leaders will redevelop the City of Houston.
To view photos from the event, click here.
Resolving Complex Development Problems
On April 3, Edwin Friedrichs and special guest Willard Homes shared how they were able to work through many complex development challenges during the Museum of Fine Arts Expansion Project through fostering stakeholder partnerships and maintaining a problem-solving frame of mind.

CONTACT US
UH Bauer Real Estate Program
334 Melcher Hall, Houston, TX 77204-6021
Physical Location: CBB Room 302
Phone: 713-743-1968
Email: realestate@bauer.uh.edu
Website: bauer.uh.edu/real-estate


The C. T. Bauer College of Business is an AACSB Accredited Business School.
The University of Houston is an EEO/AA institution.